FRENCH COLONIAL EMPIRES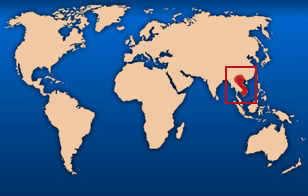 French Indochina
The General Government of Indochina was made up of the following territories:
Cochinchina, 1859-1954
Cambodia, 1863-1954
Annam-Tonkin, 1883-1954
Laos, 1893-1954
Kouang-Tcheou-Wan, 1898-1946. It was located in Southern China but incorporated into the Government General of Indochina.
Search tool: Guide to sources of the history of Asia and Oceania in the French archives and libraries, Paris, 1981; Guide to research on Vietnam, Paris, 1983.
The ANOM keeps:
Ministerial archives: sub-series C1 (XVIIth C - XIXth C); former Indochina geographical series and new collections (XIXth C - XXth C).
The archives of Admirals who administered Indochina and of the Government General (1858-1945).
The archives of the French High Commission in Saigon (1946-1954).
The archives of the General Staff for troops in Indochina (1880-1899).
The archives of the Residents-Superior in Tonkin (1874-1945), Annam (1875-1942), Laos (1895-1950) and Cambodia (1887-1945).
The plans and memoirs of the Dépôt des fortifications des colonies (1860-1889)
The archives of the government of Cochinchina have remained in Vietnam.

Some figures
Main nationalities of readers

France: 1338
Algeria: 145
United States: 109
Canada: 27
Vietnam: 26
Others: 249