OPENING HOURS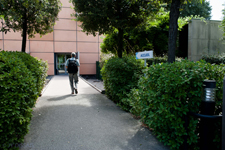 Times
Opening of the consultation rooms on Mondays from 13h00 to 16h45 and from Tuesday to Friday from 9h00 to 16h45 without interruption. The building closes at 1700.



Closures
Weekly closure:
The first Monday morning of each week (until 1300)
Annual closures:
From 2nd to 6th July 2018 inclusive.
From December 24, 2018 to January 1, 2019.
Public Holidays 2018 :
Easter Monday: April 2
Labor Day: May 1st
Victory 1945: May 8
Ascension: Thursday 10 May
Pentecost: May 21
Assumption: August 15th
Toussaint: November 1st
Christmas: december 15th
Exceptional closures
Apart from legal public holidays and periods of annual leave, the Archives Nationales d'Outre-Mer may have to close for exceptional events (symposia, maintenance work, social movements, etc.). They will be announced below as soon as possible:

Friday, May 11 (the day after the Ascension).
Decembre 24 (Chrimas Eve).
It is wise to find out before undertaking a journey.