PRIVATE ARCHIVES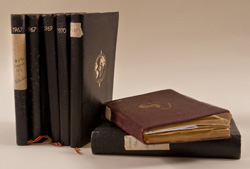 They are an indispensable complement to public archives and are a significant part of the national heritage. Dispersed and often badly kept, they run the risk of disappearing.
The Archives Nationales d'Outre-Mer plays its part in conserving this memory and receives numerous private archive collections from donations, legacies, purchases, deposits and datings.
In this way personal and family (Savorgnan de Brazza, Marius Moutet, etc.) archives and those of associations (Fédération des oeuvre de l'enfance française d'Indochine, etc.), companies (Société française des Nouvelles-Hébrides, etc.) and religions (Protestant churches of Algeria) and also photographic collections are kept in Aix.
Private archives kept at the ANOM concern mainly the Second Colonial Empire (XIXth - XXth Centuries). Although often quite small, they are of great interest for research.
Collections of private origin are not subject to the same communication rules as public collections.