CONSULTATION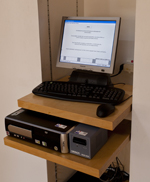 Requests for communication and reservation are made by readers themselves on computer terminals.
Staff will fetch the documents at set times designated as "levées" or collections and specified in the reading room:
Morning: 0915 / 0945 / 1015 / 1045 / 1130
Afternoon: 1330 / 1415 / 1445 / 1515 / 1545.
The number of articles communicated, extended or reserved per reader is set annually. Currently the reader may consult 6 archive documents (boxes or registers), 10 library works, 10 maps and plans and 12 microfilms.
Only one box or archive dossier is communicated at any one time. The communication is strictly personal.
In accordance with the law on archives, some documents can only be accessed by derogation from the Ministry of Culture.
Methodological assistance for ordering documents