BUILDING ARCHITECTURE
Project origins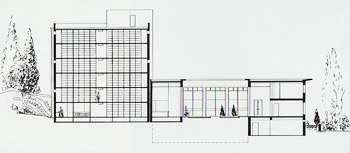 From 1959, the Direction des Archives de France [French Archives Department] found itself entrusted with responsibility for the archives and collections services from the previous Ministry for French Overseas Territories. This important collection included not only the Ministry's own archives but also the different colonial collections repatriated from the Far East and Africa and until then established in various premises throughout France, including Paris, Vincennes, Bordeaux and Marseilles. To these already very diverse collections were added new collections from Algeria during 1961.
The problem was therefore to plan a definitive establishment for all these documents, which would bring them together, provide them with suitable storage and allow them to be processed with a view to their scientific use.
The space available in the Archives Nationales in Paris, the imperatives as decentralisation began, as well as the extension projects for the University of Aix-en-Provence campus taking place at the same time, led to the integration of the building project for this new centre into the Aix University area. This was a mark of the desire to make the indispensible relationship between the University and the Archives much closer.