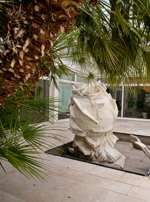 BUILDING ARCHITECTURE
Works created within the 1% artistic framework
This device, created in 1951, aims to devote 1% of the cost of constructing a public building or acquiring a contemporary work of art, which will be integrated into the projected site. At the Archives Nationales d'Outre-Mer:
"Paysages d'outre-mer" by François Seigneur, decorates one of the walls in the reading room: various writings extracted from the archives on a tropical blue background.
The patio fountain, made in Carrara marble by Michel Herzele, symbolises the world from which sheets of paper escape.