ROOM ACCESS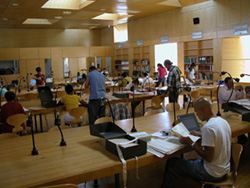 Before going to the place allocated to him/her by reception, and in order to prevent theft and deterioration of documents, it is compulsory for the reader to leave his/her personal belongings in a free locker and jackets and coats in the cloakroom.

A transparent bag will be provided for him/her to store the only items that are allowed in the room: loose leaves, lead pencils, laptop without a case, camera without a case. Books, files, notebooks, scissors, cutters, fountain pens and scanners are strictly forbidden.
Warning: No luggage, including "cabin" suitcases, is allowed to ANOM (anti-terrorist security plan).
The room regulations will be given to the reader. If he/she so wishes at registration or downloadable here:
Consultation rooms are on the first floor. They can be accessed by a lift that is suitable for wheelchairs.
At reception and in the reading room, the reader will be guided through his/her initial approaches by specific staff.