PENAL COLONIES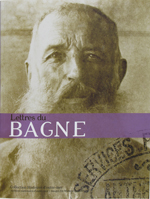 Name database of convicts imprisoned before 1890

Search tool for penal colonies collections
The penal colonies archives almost exclusively concern the penal colonies in Guyana and New Caledonia and mainly cover the period 1852-1953. There are also several documents concerning the penal colonies in Obock and Gabon, very little on Con S'on Island and Algeria which do not come from the same administration.
These archives make it possible to conduct biographical and genealogical searches, or to go deeper into more general aspects of the history of penal colonies like their operation (creation, organisation, suppression), the history of sites and penal colonisation. They also open lines of research on political questions (political movements of the Second Empire, Commune de Paris, etc.).
Important dates
8 December 1851: Decree establishing the sentence of transportation to Guyana and departure of the first convicts to Cayenne (329 insurgents in 1851 and common law convicts).
30 May 1854: Law instituting the penal colonies (only in Guyana on this date).
2 September 1863: Decree instituting the penal colony in New Caledonia.
9 May 1864: The first convoy of transported convicts arrives in Noumea.
1872: Political deportees (mainly Paris commune) sent to New Caledonia. The majority of them were repatriated between 1879 and 1880.
27 May 1885: Law on transportation (sending male and female serial offenders to penal colonies).
1898: End of transportation to New Caledonia. From this date onwards only the penal colony in Guyana continued operating.
17 June 1938: Decree-Law for the abrogation of the penal colonies.
1947: First repatriations.
1953: The last convicts leave the penal colonies.
How to carry out a search on a convict
"How to carry out a search on a convict" sheet
How should the search be carried out if it is not known whether a convict was sent to the penal colonies?
"Guidance note for searches in archives relating to penal colonies"
How to carry out a search on an official of the penitentiary administration
Send the request by post to the Archives Nationales d'Outre-Mer service which will undertake the search in the files.
Note that the dossiers of warders whose careers continued in Metropolitan France after the closure of the penal colonies should be searched in the Archives Nationales in the Ministry of Justice collections.