FRENCH COLONIAL EMPIRES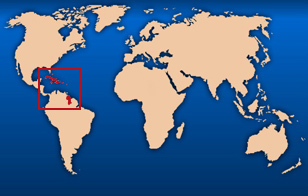 Caribbean, Guyana
The French Antilles were grouped together depending on the period.
Guadeloupe and dependencies:
Liénard de L'Olive took possession in 1635
French Department from 1946.
Martinique:
Pierre Belain d'Esnambuc took possession in 1635.
French Department from 1946.
Santo Domingo and the Windward Islands:
First establishment: 1638
Start of true colonisation: 1659, but possession of the western part of the island would not be recognised as French until the Ryswick Treaty in 1697.
Independence in 1804.
Grenada:
French possession from 1674 to 1763 and 1779 to 1783.
St. Kitts:
French possession from 1625 to 1713.
St. Lucia:
Occupied in 1642.
Attributed to England in 1814.
Saint-Barthélémy (St. Barts):
Colonised by the French in 1648
Ceded to England in the Treaty of Paris in 1763.
Saint-Vincent:
Refuge for Caribbean Indians fleeing from Martinique. The French and English tried to colonise the island which was recognised as English in the Treaty of Paris in 1763.
La Desirade:
Colonisation after that of Guadeloupe.
Tobago:
Occupied by France in 1677
Finally attributed to England in 1815.
Guyana:
First attempts at establishment with La Revardière in 1604. Development started under Colbert.
In 1664, la Barre was appointed Lieutenant General for the King for all lands in South America from the Amazon river to the Orinoco.
French Department from 1946.
See also the departmental archives (AD):
AD de Guyane
Place Léopold Héder
97307 Cayenne Cedex
Tel. : +33 (0)5.94.29.52.70; Fax: +33 (0)5.94.29.52.89 ;
e-mail: archives@cg973.fr
Website: www.cg973.fr
AD de Martinique
19 avenue Saint-John-Perse
B.P. 649
97263 Fort-de-France Cedex
Tel.: +33 (0)5.96.63.88.46; Fax: +33 (0)5.96.70.04.50 ;
e-mail: archives@cg972.fr
Website: www.cg972.fr
AD de Guadeloupe
B.P. 74
97102 Basse-Terre Cedex.
Tel.: +33 (0)5.90.81.13.02; Fax: +33 (0)5.90.81.97.15 ;
e-mail: archives@cg971.fr
Website: www.cg971.fr/archives/