DONATING TO THE ARCHIVES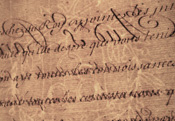 Archives from private people
(associations, families, individuals, companies)
The Archives Nationales d'Outre-Mer is authorised to deal with archives of private origin for conservation and scientific purposes.
In accordance with its assignment as a department with national competency, it receives archives and documents from witnesses and players in French colonisation from its debut in the XVIIth Century until the decolonisation years.
All private collections kept at the ANOM may be consulted at:
IREL – General collection status – Private archives
To hand over documents:
Several procedures are possible for handing over documents: donation, legacies, purchase, dating, deposit.
If you wish to entrust archives to the Archives Nationales d'Outre-Mer, contact the centre directly on +33 (0)4 42 93 38 50 or +33 (0)4 42 93 38 55; the Private Archives Manager will be able to help you.