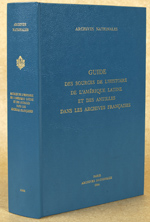 Guide des sources de l'histoire de l'Amérique latine et des Antilles dans les archives françaises (1884)
This guide is devoted to archive sources and printed archives. It is the review of collections with an interest in the Latin American countries before and after independence, as well as the history of the islands and territories located in the Caribbean region and having belonged to European nations, including those which have since acceded to independence.
Price: 30.50 €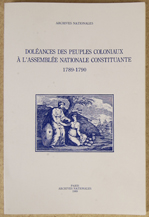 Doléances des peuples coloniaux à l'Assemblée nationale constituante 1789-1790
This work is not an inventory of documents kept at the ANOM, but a guide giving an overview of the preoccupations which were prevalent in the Overseas Territories in 1789, at the time when France demonstrated its aspiration for another type of society.

Price: 6.90 €.